Exitwise Client Success Story
Congratulations to Larry Crocenzi and the team at Great Lakes Tile Products on their acquisition by OneMonroe.
Special appreciation to an outstanding M&A team, led by Jack DiFranco, Hank Wineman, Jon Angell, and Todd Sullivan.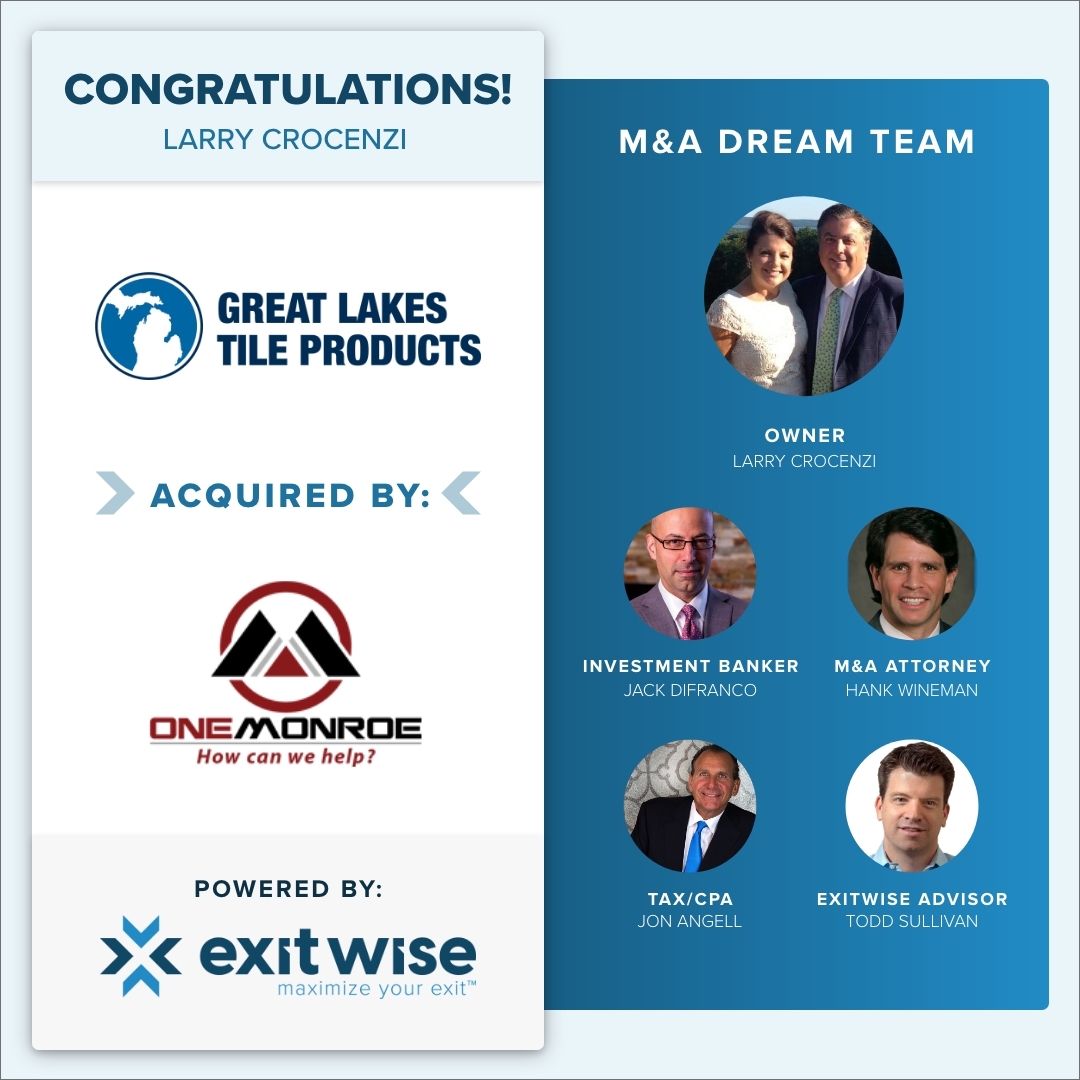 About Great Lakes Tile Products:
From humble beginnings in San Marino, Italy, Philip Crocenzi came to America to build his dream. Arriving in Detroit in 1948, Philip went to work as a tile setter. He perfected his skills over the years and became a Journeyman union tile setter. Along the way, Philip married Ada and the couple had three boys. In order to pass his craft and expertise on to his sons, Philip along with his brother-in-law Aldo, formed Ideal Tile Company in 1968.
From a very young age, Philip's middle son, Larry, worked with his father learning the trade and expanding his knowledge. In 1986 Larry took the business to a new level by forming Tile Concepts, a company primarily involved in residential tile installations for larger track home builders such as Pulte Homes and others.
As Tile Concepts grew and prospered, Larry became frustrated with the ever increasing cost and lack of availability of the tile trims he purchased for his installations. Motivated to change things, Larry brought together skilled tradesmen and experienced leadership to form Great Lakes Tile Products, Inc. in 1999.
Today, Great Lakes Tile Products continues to develop and offer the finest quality aluminum alloy, stainless steel and PVC trims and transitions for tile and stone. With customers throughout the USA and Canada, Great Lakes Tile is pleased to provide them the best service in the industry. Always innovating to add new items for the needs of today, Great Lakes Tile Products is still building the American dream!
About OneMonroe:
OneMonroe is a ISO 9001:2015 & AS9100D certified global industrial manufacturing company offering a broad product line and has a diverse customer base of manufacturers, distributors and catalog-houses across several vertical markets including aerospace/defense, automotive, medical, transportation and many more. Monroe has a rich history dating back to the 1920s and Otto Siewek's role in developing "tooling components", which helped standardized mass production of automobiles.
Our OneMonroe team lives by a simple question, "How can we help?" OneMonroe has grown with so many customers because we were never afraid to help a customer attack an issue to get it solved correctly, quickly, and in an efficient manner. We continually expand our standard product offering based on the needs of our customers and have expanded our contract manufacturing capabilities to offer more custom solutions than ever before. Backed by a rock solid quality system our goal is to help you with your "problem of the day". Please give us a chance to earn your business.